Meet Ashley
In January 2009 previously very healthy 2-year-old Ashley became yellow (jaundiced) and she was diagnosed shortly thereafter with a condition called acute liver failure, a very serious condition in which her liver function was deteriorating rapidly and a liver transplant needed to be performed imminently to save her life. Ashley was prioritized on the National Transplant List, however her urgent medical situation required us to act quickly and consider the living liver donor program.
Ashley's Aunt Cheryl was a perfect match. Cheryl heroically donated a portion of her liver that allowed Ashley to receive this life-saving treatment. We are so incredibly grateful for Cheryl's gift of life!
Ashley is now doing remarkably well. However, by nature of her young age, Ashley will face a greater cumulative burden of life-long immunosuppression that may present new medical challenges for her future health. By supporting Ashley's Angels, you are helping to ensure that the highest standard of clinical care and research currently provided by SickKids Transplant Centre and its dedicated staff can continue providing a healthier future for transplant recipients like Ashley.
"I go to SickKids to stay healthy", 7-year-old liver transplant recipient, Ashley Logan
Below is a message from Ashley.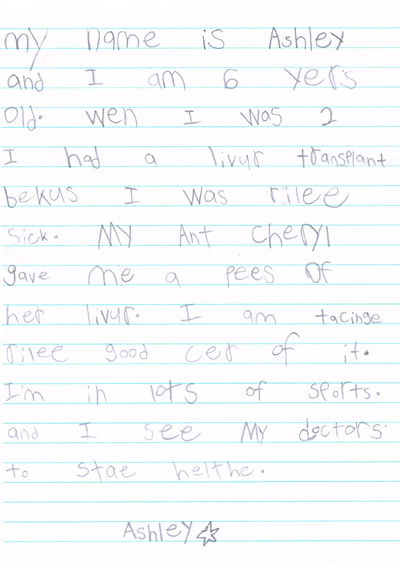 Back to About Us